A Provencal Bolognese Vegan tomato sauce doing well in Irish supermarkets
Filed under: Non classé, Résultats
Comments: None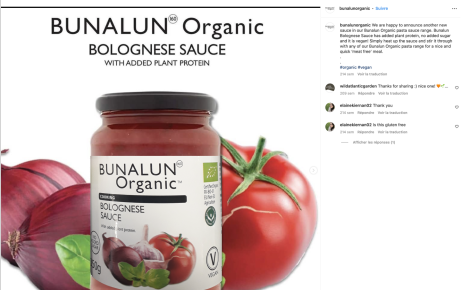 A plant-Based Bolognese Tomato Sauce from Provence
Its recipe remains a mystery for many tomato sauce manufacturers, including transalpine ones, who would have tried to match it.
The secret will obviously not be revealed here.
Once again the French "tour de main" makes the difference.
A distinctive know-how to break into markets by using "niche" entry points.
The distribution of Organic in Ireland is concentrated at 70% in supermarkets
Organic foods benefit from a very broad distribution because it is available in all supermarket chains.
Namely Tesco (140 POS), Dunnes Stores (142 POS), Musgrave Group: Centra (450 POS) & Supervalu (225 POS), Spar (440 POS).
Approach and convince all these buyers from France; impossible mission?
At the very least an inordinate commercial cost.
This is why, once again, the brand of an already well-established wholesaler importer is the solution.
I believe in long term cooperations with common interest sharing goal parteners.