The Organic flavored salts from the Ile de Ré are exported in the Finnish retail trade
Filed under: Non classé
Comments: None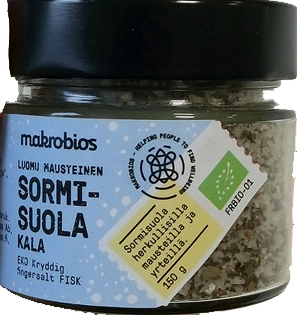 To export a very exclusive product of soil in the biological networks
As everyone knows, salt is classified as a mineral product Vs an agriculture one, a,d that's why it can receive an organic certification (*). And yet …
After audits, this salt from the Ile de Ré has been declared in accordance with Nature et Progrès specifications; then enriched with organic dried herbs, spices and citrus fruit has been awarded the Ecocert Bio certification!
(*) It will be able from 2021 following a recent evolution of the legislation
How an exclusive niche product becomes mainstream in supermarkets
Thanks to an innovative concept called "Herbal Salt"; or how to export salt by recommending to reduce its consumption!
Indeed, the basic export line is "Organic Herbal Salts – Less Salt & More Taste for Your Food"; which gives in developing "Our herbal solutions will help you decrease your salt intake while increasing the flavor of your food".
This shift in positioning, from the terroir to nutrition and organic, allows us to reach a whole new field of consumers.
Speciality foods from the French terroir are difficult to export because it is expensive and very typical. Only a fringe of savvy consumers and fine gourmets is able to appreciate it. Those who are adapted to a healthy diet.
Once again, it is a French terroir specialty that finds itself exported "in its Bio version". Indeed, this one is addressed to consumers privileging Quality Distinctive to quantity or price. One more proof that our terroirs have every interest to develop in this market segment that knows how to recognize its attributes of excellence.
A local partnership to access GMS
It is to the brand of the local distributor that the range is referenced by a brand with 900 PDV very invested in the Bio.