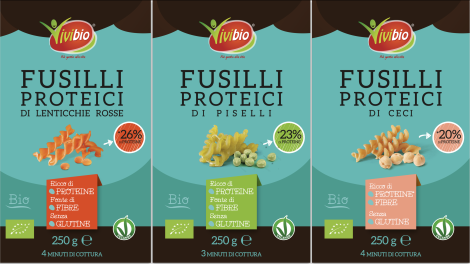 Export French Organic know-how private labeled
The Italian N°1 multi-channel organic distributor worked out the finest design for its PL pastas dedicated to the retail market.
He selected the French pastas on a purely Qualitative basis.
No doubt about it; aren't the Italians the undisputed masters when it comes to pastas!!
Quality resulting from an innovation
The QUALITATIVE excellence of these legume pastas does not come from nowhere. They has been crowned by an Italian jury who awarded in 2016 during the Organic fair in Bologna, SANA, with best legume paste prize!
Neither bla-bla, nor phony storytelling, but a technological step up which lead to a specific manufacturing process and line designed by this manufacturer.
In 2014, this pioneer manufacturer of Legumes gluten-free pasta created his own low-temperature/low-speed process using only indigenous flours with none of these additives necessary on the high-speed industrial lines of its competitors.
Major measurable and irrefutable USP (Unique Selling Points) for the benefits of consumers
An exceptional preservation of the natural nutrients and vitamins of the raw materials;
A pretty bright and natural color even after cooking; when all competing pastas see their colors fade into an unappetizing gray once cooked;
A pleasant natural taste and a unique chew, when all the other pastas with legumes fall apart when cooked like porridge;
To date, these legumes pastas are the only one can cook al dente; and that stay tasty hot, or cold in salads.