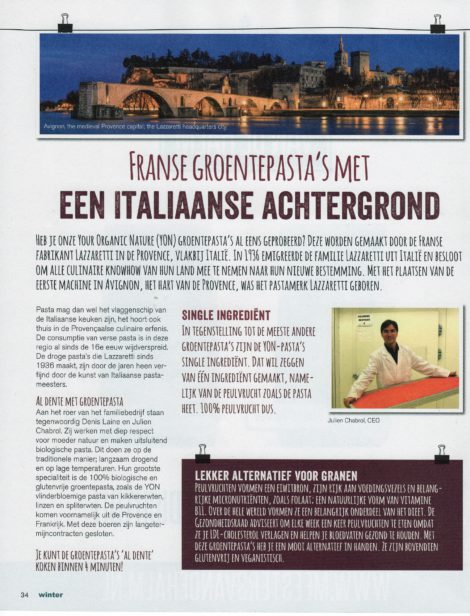 Netherlands: the first 100% organic retailer puts french pasta on the front page !!
Break into foreign markets with French pastas, a real challenge!
And yet, it is a considerable success that French gluten-free pasta gather in the Dutch chain Ekoplaza (nearly 100 supermarkets); and that's why its consumer magazine echoes it.
The unique know-how of the French gluten-free pastas
leader based in Provence
It is generally accepted that the pasta is Italian just as the watch is Swiss, … except when it comes to Organic Gluten-Free Pasta, for the manufacturing of which a specific process know-how is required iin order to achieve a taste quality comparable to standard pasta, the Al Dente effect!
Well, this French pasta, she has it! Indeed, once again it is the innovative French engineering that makes the difference and makes it possible to offset higher domestic production costs than those of our European neighbors. Not mentioning that the Dutch market-plae is a price-oriented market.